GS Aquatics Swim Club is run by a volunteer Committee.
GS Aquatics Committee members are listed below.
Would you like to be involved?
GS Aquatics Committee
With the support of an Administration Officer, the GS Aquatics Committee is a team of volunteers who contribute their time to run Swim Club nights, manage Club fundraising and fun activities.  The Committee welcomes all Club Members to be involved; from time-keeping and serving in the canteen to managing triathlon stations to raise Club funds.
If you would like to assist the Club, please contact our Support Officer.
GSA Support Officer
Melinda Vincent
Mobile: 0402 117 054
Email: gsaquatics@gslc.qld.edu.au
GS Aquatics General Committee Members
Simon Prytherick
Laura Bleadsdale
Mark Hodgkinson
Brian Stehr (Head Coach)
Peter Diamond (Coach)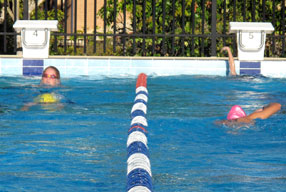 GS Aquatics
For the Love of Swimming
GS Aquatics Swim Club facilities include a heated, 25mtr pool, grandstand seating area and experienced, respected coaches.